Words by John Bamidele, founder of gbc.ng, a leading digital news portal on gaming in Africa. Well versed and experienced in Africa gaming, John has been a journalist for two decades working in Print and electronic media, writing on Sport, Marketing, Marketing Communication, Tourism and Politics
Technological disruption is transforming markets and societies across Africa in ways that wouldn't have been possible even five years ago. What marks out the digital revolution in Africa isn't the technology that underpins it, so much as the growing affordability, accessibility and until recently, largely untapped demand that have made its advances so rapid. Global foreign direct investment is down, but not in Africa especially in the area of emerging technology. United Nations Conference on Trade and Development reveals that US$46 billion worth of Foreign Direct Investment (FDI) flowed into Sub-Saharan Africa in 2018, an 11 percent increase compared to 2017. This is significant for the continent because when a company makes an FDI, it's expected that it will not only invest money but will also invest soft assets e.g technology, expertise and training. Egypt ranks highest in attracting FDI in Africa followed by South Africa, Morocco, Nigeria and Kenya with East Africa being the top investment destination in the African region.
The gaming industry in Africa has been one of the greatest beneficiaries of technology advancement. With a combined gambling industry worth US$38 billion according to Venture Africa as at 2018, the continent is touted to be the next frontier in gaming. 5G is the future of mobile communication but only two countries on the continent have rolled out the broadband, South Africa and Lesotho. Nigeria is the next destination for 5G in Africa; this was revealed by MTN the mobile telecommunication giant at the launch of its 5G network in Bloemfountein and Port Elizabeth in South Africa in June this year. The 5G expansion across Africa was part of the agreement signed by MTN and Ericsson for the deployment of the Fifth Generation (5G) network. The network will be deployed as a commercial service in Nigeria and 20 other countries in Africa where it currently operates.
Most countries on the continent are now on 4G. Initial development had been slow due to delays in assigning spectrum to service providers. However, in the last four years, things have changed and the pace of development has increased. Tunisia has the fastest mobile internet speed in Africa with a download speed of Mbps-19.21 followed by Morocco with a download speed of Mbps-18.52 and upload speed of Mbps-9.08 with Egypt occupying the third spot with a download speed of Mbps-15.89 and upload speed of Mbps-7.67. Achieving broadband access for all in Africa comes with a US$100 billion price tag with Africa Union ably supported by the World Bank Group setting 2030 to connect every individual, business and government.
South Africa dominates the gaming industry in Sub-Sahara Africa. PwC, a top accounting and auditing firm, puts the country's total gambling turnover at $18.77 billion of which 82 percent come from the 37 casinos in the country. One of the key influential factors contributing to the gaming market's remarkable continued growth pattern is the rise in the mobile gaming. Within this sector, two main niches, in particular are on the rise; esports and iGaming. Mobile gaming's rise has been made possible largely due to successful internal government investments plans into the country's infrastructure. High speed internet and increased 4G coverage are now more widely available across the nation. Meanwhile, South Africa's mobile gaming industry could not have grown so quickly without big brand giants that continues to release affordable smartphones.
One niche mobile gaming market making a huge leap forward by swallowing up available markets share rise is the iGaming industry where slots, card games and sports betting are very popular. There is an army of online casinos targeting South African players with enticing welcome bonus deals that often double the first deposit. Those that enjoy visiting land-based casinos are also logging on to play online live table games. Rather than taking the time to travel to land-based brick and mortar casinos, an increasing number of casino goers are now switching to these new online dealer tables. The South African market is part of a global Esports industry which was receiving increased attention from broadcasters, sponsors and advertisers even before the global coronavirus pandemic forced billions of house-bound citizens to seek new forms of entertainment.
The global Esports market is expanding rapidly. NewZoo, a market intelligence firm predicts global revenue will grow to $1.1 billion this year, with total audience increasing to 495 million, a year-on-year growth of 11.7 percentages. Africa's growing young population and uptake of internet and smartphone technology has led some industry players to cast their eye towards the continent. Therefore with a youthful and increasing urban population in Africa, there's an opportunity to invest in the dynamic Esports ecosystem and capitalize on a growing entertainment phenomenon within this emerging market.
As the audience grows, more businesses are expected to invest in African team talent, with South African and Egyptian gamers already starting to feature on international rosters. This opens up sponsorship opportunities for companies investing in these athletes, with advertising targeted to reach African fans.
In March, Nodwin Gaming, an Indian licensor and creator of esports properties that provides media rights for live events and programming announced its expansion into South Africa with the opening of a new office. The firm has also invested in Nigeria and Kenya. Statista, a research company posits that the South African video games market will grow to R5.44billion ($292m) in 2023 and this boom has created a new class of celebrity athletes capable of endorsing products to a young and wealthy demography.
With an estimated 60 million Nigerians actively involved in Sport betting, sport betting is experiencing a massive surge in Nigeria and its consequently having a huge impact on the economy. A recent report by Nigerian pollster Noi Polls shows that people within the age 18 and 40 bet with 300 naira($0.78) daily totally $2 billion annually. Nigeria, a country in the West Africa region boasts of the second largest online gambling market in Africa behind South Africa with gross gaming revenue of $58 million in 2018 according to PwC. PwC also projects that the gross gaming revenue will rise by 16 percent over a five- year period. The rise in sports betting has been aided by improved technology with many Nigerians now having access to mobile phones and affordable internet. Nigeria has a population of 203 million people out of which 169.2 million access mobile subscriptions, translating to 83 Percent, which means it has the highest mobile penetration rates in Sub-Saharan continent.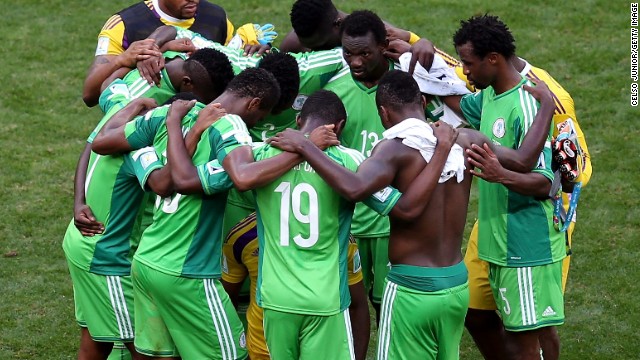 Nigerians are very passionate about football and they idolize their football stars, especially those playing in top European leagues and Super Eagles, their senior national football team. The popularity of sportsbetting amongst the population is also evident from the top Google search queries. Nigeria's most popular sport betting site Bet9ja was the third most searched query and livescore website rounding up the top five most searched sites. The mobile and internet penetration has grown significantly when compared to the previous 12 months. Mobile phone connections registered a 7.7 percent increase (+12 months connections) from January 2019 to January 2020 and internet users increased by a further 2.6 percent(+2.2 million users) throughout the same period. Return on investment in sport betting is very high; little wonder a lot of foreign gaming brands have acquired online national gaming license in the past one year, the menace of the COVID-19 pandemic notwithstanding.
The smartphone is by far the most popular device with 83 percent of internet users aged 16 to 64 owning it. Significantly, 95 percent of all internet users' access the internet via smartphones while only 2.3 percent access the internet via feature phone while the average daily time spent using the internet on mobile devices stands at 4 hours and 50 minutes. In Nigeria, gaming licenses are issued by National Lottery Regulatory Commission and the State Gaming Regulatory Commission. There have been disputes between the two over who has the power to issue license especially online license. The Nigerian constitution however, is silent on license issuance. Nevertheless, a local partner with a good understanding of the gambling industry in Nigeria will help sort this out and advice appropriately.
I
n East Africa, sport betting reigns supreme. Outside South Africa, the region ranks second in igaming and this is fundamentally propelled by two factors; fintech and other emerging technologies. The digital and mobile payment space has witnessed rapid growth in the recent past, attracting more players. M-Pesa, a mobile phone money transfer platform has contributed to meaningful financial inclusion in the region in Kenya. Online sports betting companies such as sportpesa have grown rapidly in Kenya and East Africa with revenue of 204 billion shillings ($2 billion) last year.
A market report released by Shikana Law Group in Tanzania revealed that sport betting, retail casinos and SMS lottery had the largest market shares in terms of gaming gross revenue for 2018/2019. Improvement in payment methods also played a big role in the growth of igaming in Tanzania, love for sports, high mobile and internet penetration rates and a favorable business environment and overall macroeconomic conditions are massive factors too. The youth population in Tanzania is projected to reach 89 million by 2035 with 63 percent under the age of 25 which will propel sport betting in the jurisdiction. Tanzania is one of the few countries to start the regulation of igaming in Africa and with a strong gaming board led by James Mbalwe, the East Africa Nation is in pole position to attract foreign investors looking in the way of Africa.
Despite the highly controversial decision to ban all sports betting outright by the Uganda governmen, last year, people are still accessing various forms of gambling entertainment online. It's no secret that Ugandans love to gamble with a significant proportion of the population engaged in the activity on regular basis. Kampala the capital of the East African nation plays host to newly opened Empire Casino, a monument that can rival casinos in Las Vegas. Though land-based, the casino is utilizing technology to attract gamers with state-of-the- art video poker and touchcreen slot reels as well as superfast WiFi throughout the building. Kampala remains the hotspot of casino entertainment with no less than three other casinos in the city.
Of note is how technology has enabled new forms of gambling for Ugandans. Internet connectivity is increasing rapidly with the number of people with constant internet access rising almost tenfold within the past decade. People are able to access the internet with smartphones, this allows leading gaming platforms across the world take advantage of the situation. This situation puts traditional land-based casinos at a disadvantage and unable to compete with global gaming platforms. The ban on sport betting enabled other betting companies in Uganda to have a field day. The truth is, whether you place a ban on betting or not, people will still find a way to bet. People with regular internet access in Uganda are close to 19 million. With majority of the traffic, international, foreign-based gaming platforms are making major strides into the Ugandan market. This trend will continue to grow significantly in the next few years as inter-connectivity and internationalization of various forms of the Uganda economy grows.
By 2050 Africa's youth population will increase by 50 percent, making Africa the only region in the world where youth population is increasing. African youths are critical to the continent's future when it comes to mobile penetration and gaming. During the lockdown, the entertainment streaming and gaming industries were thriving. In Africa, the largest gaming markets by revenue are Egypt, South Africa, Nigeria and Algeria. Each country has generated more than $100 million in video sales a year since 2017. The increase in video game players in Africa from 23 million in 2014 to 500 million in 2019 is bringing jobs to African nations. Many game developers who started in the industry part-time have seen the transition of their roles to full-time work as gaming companies expand.
Tunisia, a North African country launched the African Esports League in October last year and the announcement of the Nigerian Esports League by Esports Nigeria in February this year is an indication of the growth of Esports in Africa. While this may seem over-ambitious, the organization has some sponsorship deals agreed. The ESports league in Nigeria has 12 different titles, seven console games, five mobile titles including Call of Duty, FIFA and League of Legends. South Africans have always loved video games, with millions of people buying and playing news titles every year and 40,000 dedicated Esports fans watching events regularly.
Egypt has the most developed Esports industry in Africa. As with many other aspects of our lives since the dawn of the technology era, digital sporting activities or video gaming has turned into an industry that will rival the traditional games. In Egypt, there is already a significant boom in this sporting segment, known as Esports. UK gaming festival, Insomnia was hosted in Cairo in 2018, featuring a mini tournaments with $29,000 worth of prizes in cash and merchandize. Events such as Esports Summit, Gamers Lounge and regular Grand Slams organized annually by Power League Gaming (PLG) are a testimony to the growing popularity of Esports in Egypt.
John Bamidele can be reached on his Skyke ID live.:cid.e2283b5a706cb80b. He can also be reached on email: amostogun@yahoo.com and Whaatsaap +234 8022212236.
SiGMA Calendar:
SiGMA Americas and AIBC Digital Summit were launched with great success in the past week, pushing the shifting grounds of the gaming industry towards LatAm and discussing the current developments in digitalisation. In a first for SiGMA, both the gaming and the tech segments of the conference were offered in 3 languages, English, Spanish and Portuguese.
SiGMA will launch its next series of events in 2021, with SiGMA Europe headlining next year's calendar. Inaugural summits in Asia and Americas are also set to dominate the year, with SiGMA Asia launching in May 2021 and SiGMA Africa in 2022! Explore the full agenda here and register now!